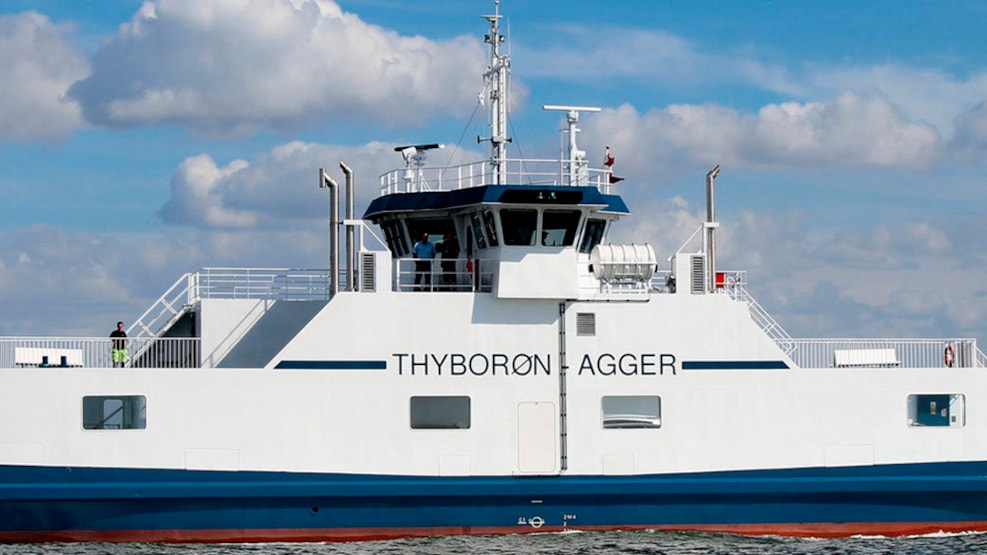 Thyborøn - Agger Ferry
Take the climate-friendly hybrid ferry between Thyborøn - Agger and enjoy a day trip along Jutland's West Coast.
The ferry route Thyborøn - Agger is part of "Den Grønne Kystvej", which stretches from Holland to Stavanger in Norway.
The Thyborøn - Agger ferry connects Agger Tange, the southernmost tip and entrance to National Park Thy and Thyborøn on Harboøre Tange.
Tickets are purchased on board the ferry and in the vending machines at both ferry berths. We accept the following card types:
Dankort - Visa / Dankort and Mastercard. Tickets cannot be purchased online.
The ferry can carry 22 cars. If more vehicles are waiting than the ferry can carry, the ferry will sail without stopping in Thyborøn. When the traffic is normalized, the ferry will return to the sailing schedule.
Attendance no later than 5 min. before departure.
History
Before 1800 the seaweed hung together, but by a storm surge in 1825 the North Sea broke through. Thyborøn Canal, which separates the Limfjord from the North Sea, arose in 1862 by a later storm surge.
Experiences
The port city of Thyborøn has the rushing North Sea on one side and the calm Limfjord on the other. In Thyborøn you can visit the Coastal Center, the Jutland Aquarium and the Sea War Museum.
If you come by ferry from Thyborøn to Agger Tange, you can be lucky to see groups of seals resting on the sandbanks east of the ferry's route. In the bird sanctuary you can go bird watching all year round.
Agger is a small fishing village, which is visited every year by many tourists. Agger is characterized by its unique location by the sea, lake, forest and fjord. Agger also boasts of having Denmark's longest handicap path.
Naturparknissumfjord © 2023