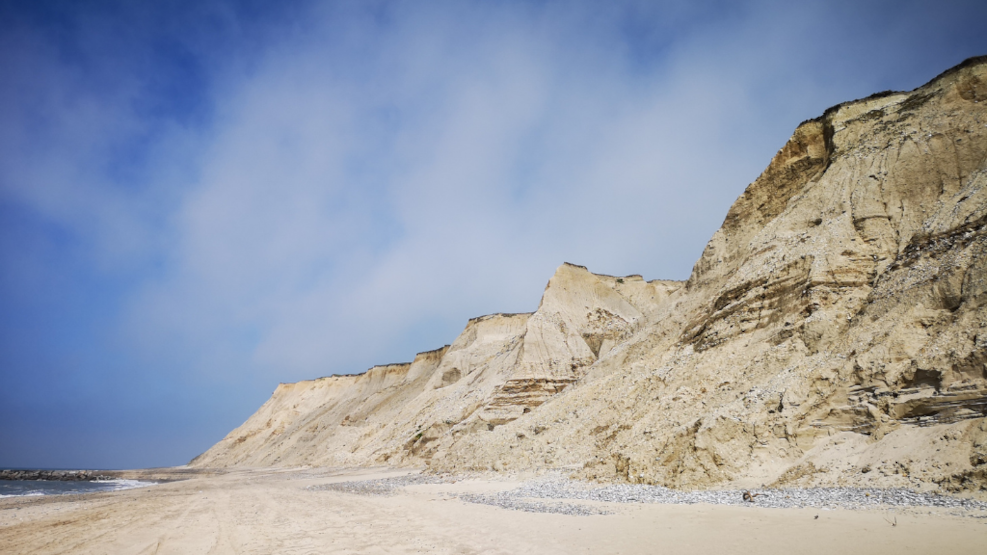 Bovbjerg Cliff
Bovbjerg Klint - cliff - is part of the UNESCO Global Geopark West Jutland.
If you are geologically interested, Bovbjerg Klint should be on your list of places to visit.
The impressive cliff shows traces of both the Elster, Saale and Weichsel ice ages.
Visit Bovbjerg Klint and observe the impressive coastal protection work. From the cliff you have a fantastic view of the piers by the North Sea.
Also look past Bovbjerg Lighthouse and get the history of the lighthouse and the coast and enjoy a cup of coffee and delicious home baking in Bovbjerg Lighthouse's small café, which is run by volunteers.
Geology and the Ice Age
In Fjaltring you can see meltwater and icebergs from the Elster ice age (300,000-230,000 years before now).
In the cliff profile between ridges D and F (off Bovbjerg Lighthouse), moraine clays from the Saale ice age (188,000-128,000 years before now) are visible. The remaining layers date from the Weichsel Ice Age (115,000-10,000 years before now).
The large landslides on the stretch along the cliff are due to natural waterways running in the clay and large amounts of water from rain and meltwater from snow and ice.
The sea has previously made large incisions in the country, but an extensive construction of piers from 1875-1933 has managed - almost - to secure the coast from here.
Read more about UNESCO Global Geopark West Jutland ice age landscapes, the magnificent nature and strong natural forces here.
Naturparknissumfjord © 2023