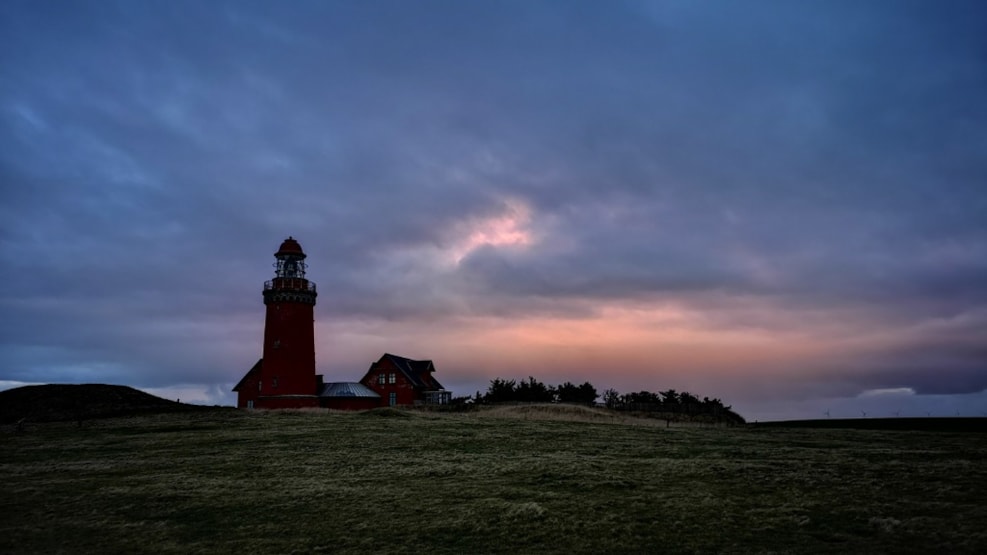 Bovbjerg Lighthouse
Bovbjerg Fyr today functions as a cultural center and is run by 160 volunteers who come up with crazy, fun and fun events, where the community is a major driver.
You can experience everything from classical chamber music, advanced theater, visual arts, music, dance, theater, events to lectures.
On the edge between fat farming land and poor sandy soils. On the edge between the soft curves of the landscapes of the last Ice Age and the flat lands of melted water.

The Light House has existed since 1877, mostly for the benefit of sailors. The 93 steps of the tower lead to the lantern and the open gallery, where you can enjoy a stunning view.
Coffee and homemade cake

The living room of Light House Master Rude has been transformed into a cozy café. In the garden of the light house master children can play and investigate. In both the former houses at the light house you can see new exhibitions every month.
Ice age landscape and UNESCO Global Geopark West Jutland
The geology of the Bovbjerg Lighthouse is an exciting story about nature's enormous powers many thousands of years ago. The impressive Bovbjerg Klint shows traces from the Elster, Saale and Weichsel ice ages.
The groyns also have a history. They were the end of a time when the North Sea greedily ate off the land. At about the same time, the fire service became an important weapon in the fight to curb the "iron coast's" many shipwrecks.
Culture and art
Continue your tour around some of the area's churches and memorial stones, which also tell you about the area's rugged history.
The artist life around Bovbjerg in the first half of the 20th century with, among others, Jens Søndergaard is an interesting story to dive into. Visit the Jens Søndergaard Museum in Ferring and get swallowed up by his sea pictures and other motifs from the area.
Naturparknissumfjord © 2023