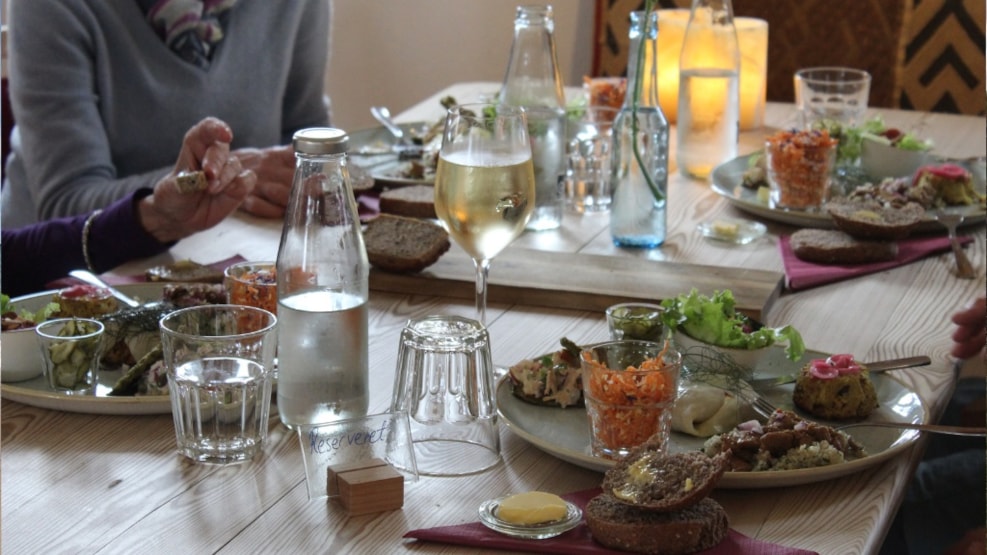 Green Experience
Café Tuskær
Enjoy delicious organic food in the café at Tuskær, Culinary Arts and Culture Center, which has the Organic Food Label in Gold.
As the only café in the area, Tuskær's kitchen has the Organic Food Label in GOLD (documented 90 - 100% organic).
Tuskær's renowned organic cuisine serves well-cooked vegetarian and vegan food for guests and students with the opportunity to supplement with some organic fish. We prioritize organic ingredients in top quality and the menu is composed primarily based on seasonal vegetables.
The kitchen also functions as a teaching kitchen.
The daily manager, Lise Faurschou Hastrup, is also a midwife, head chef and teacher on site.

The Art and Culture Center Tuskær is a cultural attraction by the North Sea, which arranges concerts, lectures, courses and exhibitions.

Tuskær is decorated in an old dune farm and has a very nice art collection as well as changing exhibitions.

Over the years, the New Carlsberg Foundation has donated many art gifts to Tuskær, such as jars by Gertrud Vasegaard, large porcelain vessels by Bodil Manz, sculptures by Kirsten Lockenwitz, Svend Wiig Hansen and Ejler Bille, tapestries by Berit Hjelholt, Jette Gemzøe, Charlotte Schrøder and Inge Bjørn. Visual artist John Olsen and sculptor Eigil Westergaard are also represented.
Naturparknissumfjord © 2023