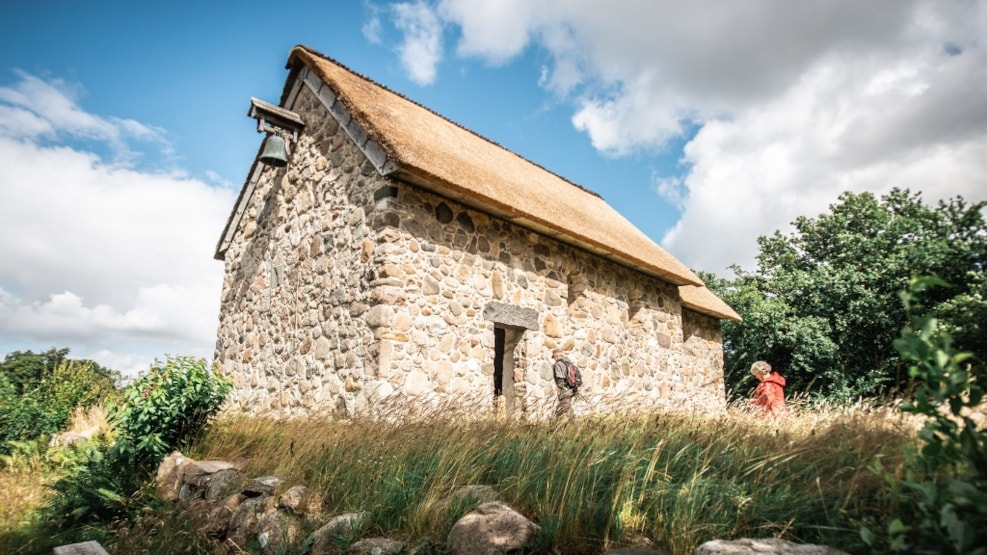 The Church of Hjerl Hede Open Air Museum
The museum church at Hjerl Hede Open Air Museum near Vinderup is a reconstruction of a a Romanesque-style church which was built in Denmark in the 12th century.
The Tjørring church, north of Herning, served as a model for the reconstruction.
The nave measures 40 by 25 Roman feet, and the choir 19 by 19 Roman feet.
In the middle of the floor there is an original East Jutland font from the 13th century painted with vivid colours in 1992 as a reconstrucion-experiment.
Also the Romanesque wallpainting from 1985 is made as an experiment with wallpainting. The motives are from the church of Raasted near Randers.
On the Communion table there are a couple of candlesticks from the Swedish town of Visby and an image of Christ, which is a replica of a crucifix in Åby Church.
The church bell is a cast from Denmark's oldest bell, which hangs in Smollerup Church.
The Old Village
The church is located in the open air museum Hjerl Hede.
The museum shows cultural elements from Danish village, among others the oldest farm in Denmark.
In the high season, summer and Christmas, the museum is made up of more than 100 people working in houses and workshops.


Naturparknissumfjord © 2023