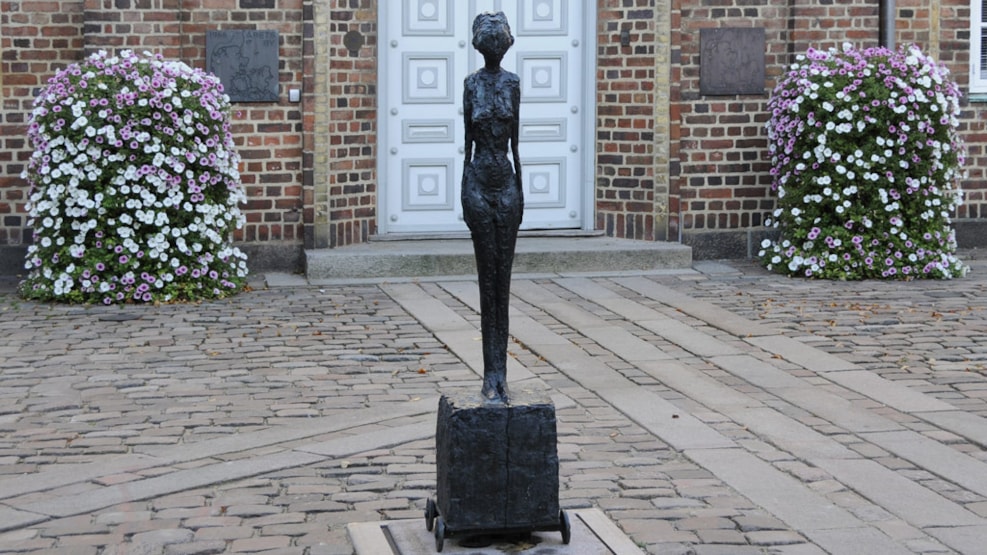 Hike - The Art Course through Holstebro
On the Art Course in Holstebro you can see Woman on Cart, whom by the locals is also called "Maren". The course contains 15 control points/ works of art, which are placed around the town center of Holstebro. 
The Art Course in Holstebro is a kind of Orienteering. You can choose to run or to walk the Art Course, and if you want to do it alone or together with somebody. The Art course contains 15 control points, where you among other things will see The Basilisk under the bridge Storebro, Woman on Cart at Nørregade and The Tobacconist's Drean on Den røde plads.
The Art Course is through the city center of Holstebro and the course is about 4,5 km (2,8 miles). On the Art course, there are 15 control point, which all are a part of the works of art of the town. 
The Art course is for everyone, who would like to have a nice walk around in the city of Holstebro. You can also choose to do the whole course at once, or only do some of the control points. It's all up to you.  
Quiz
You can choose your smartphone to quiz you through the course. The quiz contains of 15 questions one for each control point. To each question, there are three possible answers. You can use the quiz to know how good your knowledge about the Art in Holstebro is, or to compete with another team. The quiz can be started by scanning the QR-code in the flyer or on Findveji.
GPS
You can use your GPS to find your way, however the shorest route is not allways the smarest. To get the GPS coordinates you can see the control points coordinates in the flyer or download here .
Code Word
In the flyer there are a picture puzzle, containing of 15 photos, which all shows a detail that you can see when you stand at a control point. At each photo in the flyer there are a letter, that can use, if you want to solve the picture puzzle. Under the orienteering map, there are a chart with each control point number and here you write the letter you find in the photo equivalent to the control point.
Desire for more?
If you have a desire for more knowledge about the art in Holstebro, Danish Art and craft from the 1930s until now you can visit Holstebro Art Museum.
If you want more orienteering with courses of different difficulty and lengths. You can visit  
Vestjysk Orienteringsklub. 
Naturparknissumfjord © 2023