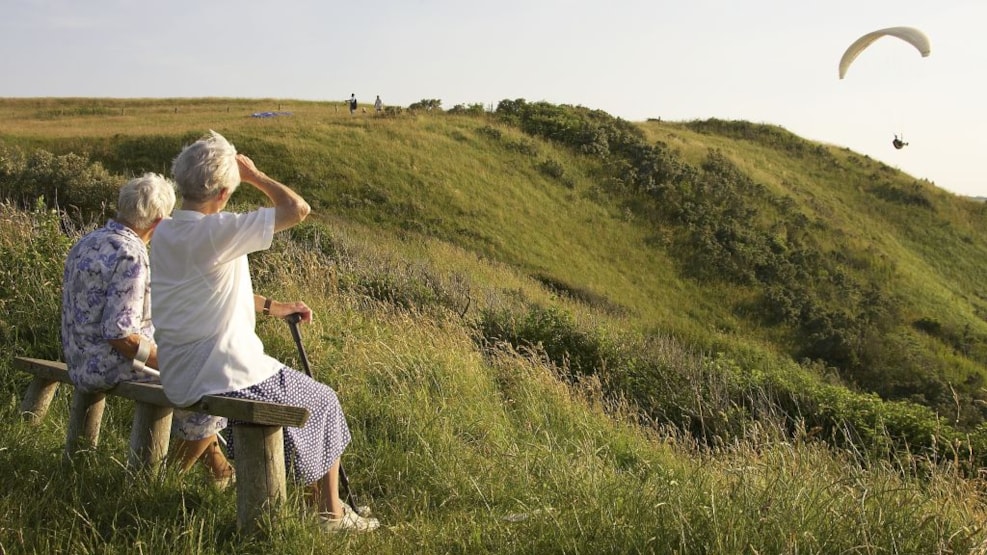 Hike - Jeppe's Led
The hikes take place on hiking trails and footpaths in hilly terrain, and it requires a reasonable condition to walk in the hills.
Part of the trip goes through the animals' enclosures. Do not scare the animals - if they get peace and quiet, they will do you no harm.
You will find the starting point at the Jeppes Led car park in Humlum.
Jeppes Led
Hike by Jeppes Led (gate), Remmerstrand.
The routes are walked on track for hikers in hilly terrain and it takes an okay condition to walk around in the hills. Part of the trip goes through the paddock for the animals. Do not scare the animals – if they have peace and quiet, they will leave you alone.
Drive from Lemvig towards Humlum. The starting point you will find by the parking area Jeppes Led in Humlum.
Why Jeppe's Led?
Jeppe was not a rich squire, nor a great thinker or famous politician. He was a poor smallholder and day-labourer, who happened to live close to a gate by the drove road west for Toftum Bjerge. His life was full of tragedies. Before his death in 1856, he experienced to lose more than one wife and several children. Why the area is named after a day-labourer who lived in poverty, is to this day unknown.
Today, both Jeppe and the gate are gone. Nevertheless, all the locals know the place – often it is associated with good summer memories, a beautiful view, a swim in the Limfjord and hikes in the area.
Naturparknissumfjord © 2023