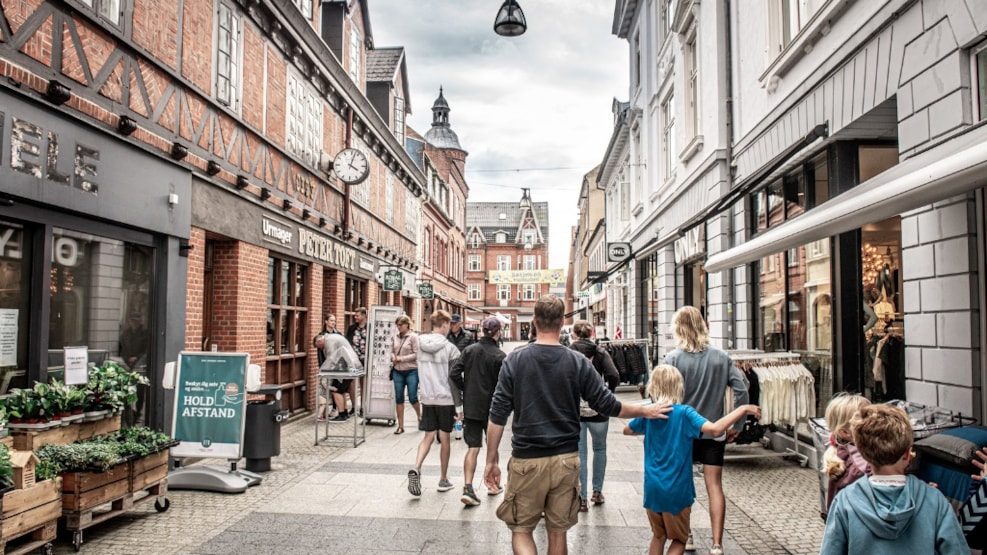 Holstebro - Denmark's Coziest Trading Town 2022
In 2022, Holstebro has been voted Denmark's Coziest Trade Town.
In Holstebro you will find all the fashion shops and specialty shops you need. The pedestrian streets and the Nørreport Center offer over 200 retail stores within clothing, watches and jewelery, home articles, leather goods, delicacies and much more.
The inviting cafés and eateries help to create a cozy and relaxed atmosphere with the opportunity to quench your hunger and quench your thirst.
The pedestrian street Nørregade is one of the oldest pedestrian streets in Denmark. The first part of the pedestrian system was inaugurated in 1963 - then in stages and in 1969 the pedestrian streets were covered with tiles. The pedestrian street was renovated in the period 2001-2004.
Bjørn Nørgaard is the artist behind the pavement on the pedestrian street and in that connection Bjørn Nørgaard's three art circles also became part of the street scene.
The pedestrian street system atypical falls, which together with its turn down to Store Torv provide a particularly cozy environment in Holstebro town center.
Free parking spaces in Holstebro center
You will find 3000 free parking spaces in Holstebro center. REMEMBER to set the parking disc and carefully read the rules for parking on the blue signs.
On this interactive map you can find an overview of parking spaces in Holstebro center.
Pleas note that if you park in Car Park in Skolegade just opposite Holstebro Town Hall and Library, you must be aware of:
3 hours parking between kl. 08-17 (08-14) on floor 0-3. From floors 4-10 there is unlimited parking.
In the car park there are 5 disabled spaces, 3 electric charging stations for electric cars, elevator and toilets.
Naturparknissumfjord © 2023