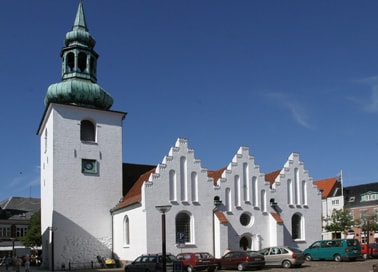 Lemvig Church
Lemvig Church is located in the middle of the town square and has been the center of the population's life since the 12th century.
During a thorough restoration in the years 1933-35, the church was expanded and provided with crested gables, just as the tower got its characteristic onion dome.
The oldest fixture is the baptismal font, which has probably been in the church from the beginning.
The crucifix in the choir in the choir and the rococo inventory are from approx. 1780
Bodil Kaalund's decoration of the altar, pulpit, organ pulpit, pulpit in the north wing, south doors and the dean's chair has attracted much attention - the work was carried out in the period 1976 - 1988.
The church has a chime, which consists of 16 bells. The carillon can be heard every day at 08.00, 12.00, 15.00 and 18.00.
Naturparknissumfjord © 2023