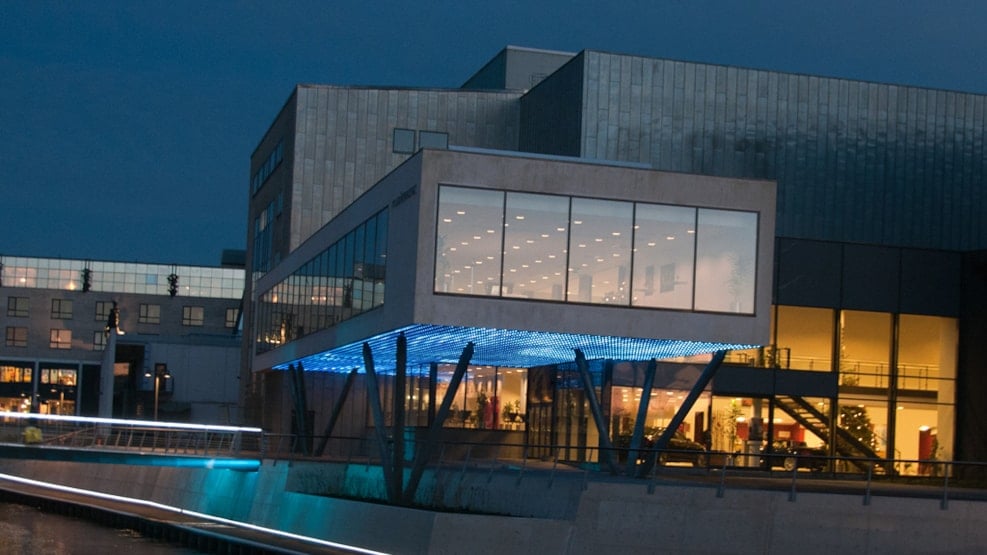 The Music Theatre
In other words: The beautiful theatre and concert hall has an abundance of shows for every taste! Here, the greatest Danish stars perform with dance, comic, lectures, and plays. More than 100 cultural events are held every year in the theatre.
The restaurant in the Music Theatre offers different buffets in connection to concerts and shows. Pamper yourself with a delicious collation before the event - and enjoy a cold beer or drink in the neighbouring bars. You can easily combine your cultural entertainment with a hotel night in the close by Best Western Hotel Royal and Hotel Schaumburg in walking distance of the theatre. 
Find your next event in Musikteatret Holstebro in the programme
The Building
There was a wish that the music theater was presentable and interesting to look at, but it should also work optimally as a theater building. 
Several different architects were involved before reaching the final result. In 1989, the firm 3 x Nielsen conceived an extensive facade renovation, and in 2006 Kjær and Richter delivered the drawings, which radically changed the hall and incorporated Storå in the appearance of the house, where the foyer is set to become a link between the northern and southern part of the city.
The new building still contains parts from the Holstebro Hall from 1966, and unlike many other cultural buildings, the music theater was realized within the budget that was set.
Naturparknissumfjord © 2023