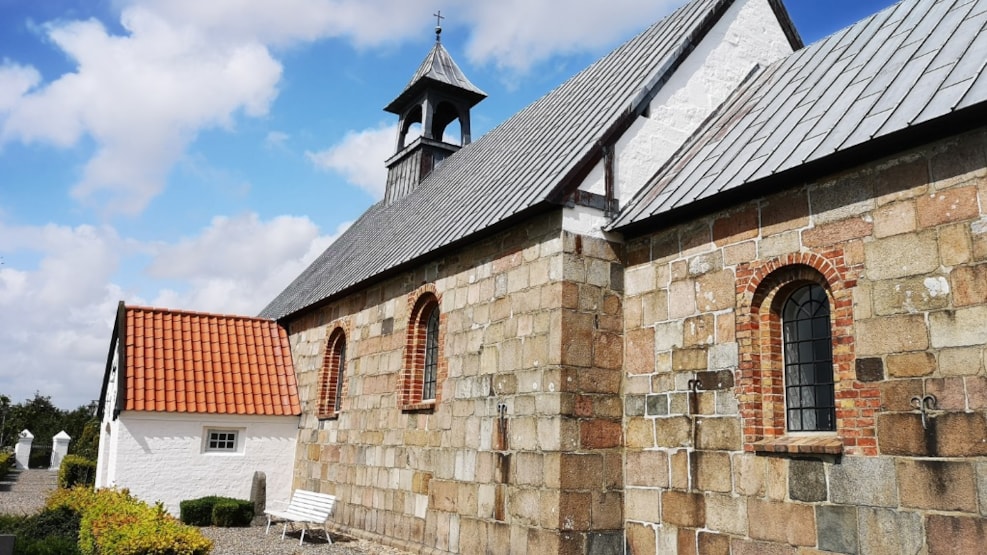 Nr. Felding Church
The village church Nørre Felding Church near Holstebro is a Romanesque square stone church from before 1200.
The church is a Romanesque ashlars church from before 1200.
The ridge turret from 1939 replaces a demolished church tower.

There are beautiful carvings in the altarpiece and the pulpit, and the oldest parts are from 1592.
At the front of the Communion table, you find two coats of arms, which belong to Janus Friedenreich and his wife Margrethe de Linde.

A characteristic painting depicting the Annunciation and the Birth is placed at the northern wall of the church. This was donated by Nic. Vissing from Krogsdal in 1792.

At the entrance there is a linen-fold panelling from the 16th century, and in the porch there is a distinctive chandelier made of old bayonets.

New pictures painted by Bodil Kaalund in 1999 are to be found in the pulpit and in the gallery.
In the churchyard there is a sculpture made by Jens Stobberup.
Naturparknissumfjord © 2023