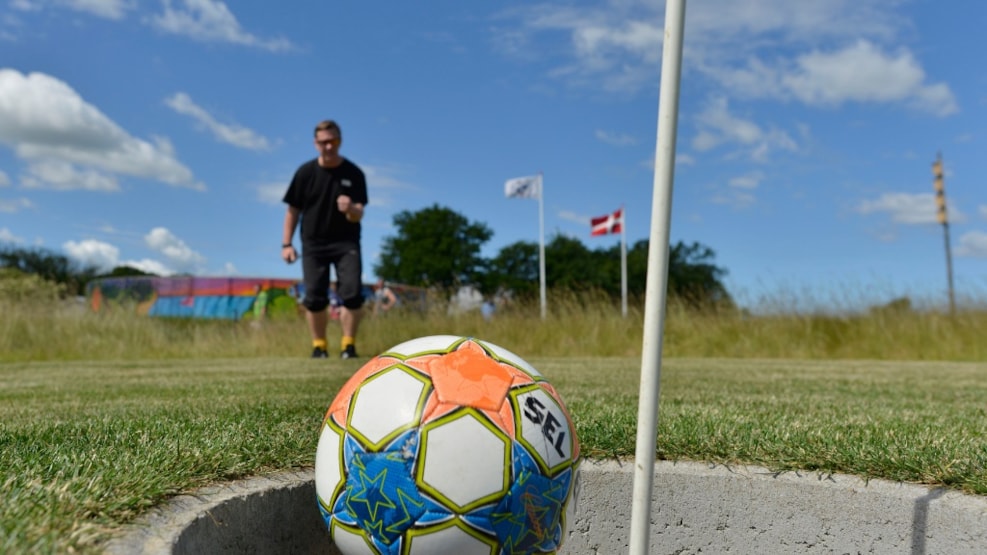 Play-Time / Vesterhavets Fodboldgolf
Welcome to Play-Time and the North Sea Football Golf at Ulfborg.
In addition to a super delicious football golf course, we offer fun activities for the whole family.
Football golf is Pay & Play - other activities must be booked, preferably the day before your visit.
Football golf
The rules in football golf are almost the same as in golf and mini golf. You just play with a football. In short, the game is about playing through the 18 courses with built-in obstacles in as few kicks as possible. A trip on the course takes approx. 1.5 hours for a group of 4 people. It is a fantastic family activity where everyone can join. Once the green fee has been paid, you can play and have fun throughout our opening hours.
Dogs on a leash are welcome.
Outdoor Escape Games
We have mixed the classic elements from the popular Escape Rooms with GPS geocaching and AR (augmented reality). Equipped with an iPad and a suitcase full of gadgets, your team must travel around an approximately 2 km long route and solve tasks and puzzles to save the world. See the different scenarios here: https://play-time.dk/aktiviteter/escapegames/
Fixed meeting points:
- Play-Time
- Ulfborg at the train station
- Thorsminde by Gl. Havn
- Holstebro by Kirkepladsen
Our other fun activities
You can book laser game, bubble soccer, football pool, shooting simulator and many more - read much more about our activities here
Food and drinks
You can have fun on our terrace or in our clubhouse where you can eat your food and meanwhile the youngest can have fun on the playground or on the campfire. We have a barbecue for free use, as long as you bring your own coal and lighting. In our clubhouse there are kitchen facilities with coffee machines and refrigerators for your packed lunches - and we have disabled-friendly toilet facilities.
Naturparknissumfjord © 2023