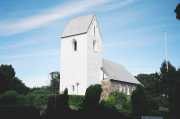 Ramme Church
The leaded Ramme Church is located in the south of the city and consists of a Romanesque choir and nave with a late Gothic west tower.
In the chancel vault, chalk-painted late Gothic leaf slings are seen.
The altar table is adorned with a considerable plaque from 1624.
The Romanesque granite baptismal font has a southern German dish from around 1575 with a reproduction of the Habsburgs' weapons.
The pulpit with its sky is from the same time as the altarpiece.
Naturparknissumfjord © 2023