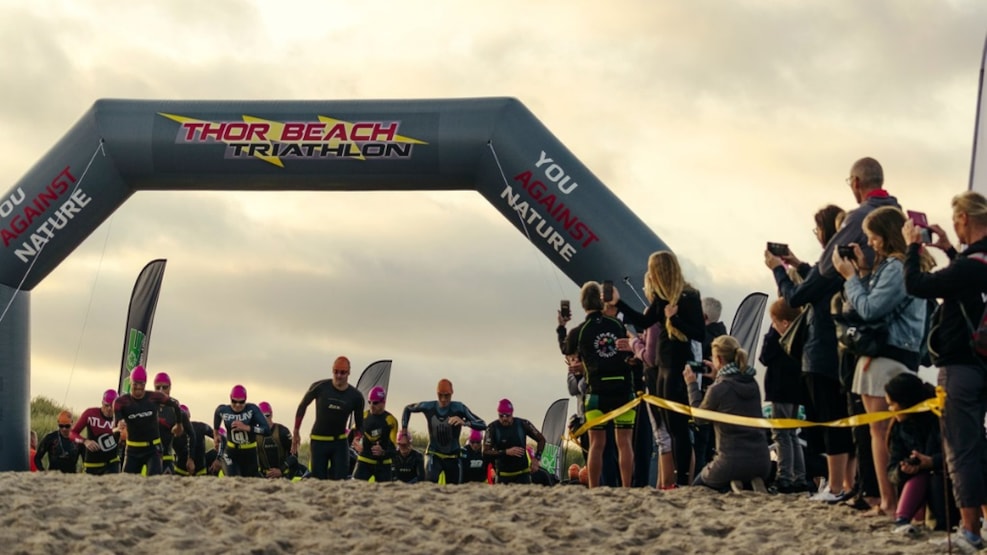 Thor Beach Triathlon
Thor Beach Triathlon is an annual event in Thorsminde by the North Sea. Triathlon in unique and spectacular surroundings, which takes place the first weekend in August.
You against nature:
The idea was/is to create a unique race on the "iron distance", where the athletes experience the rough and beautiful nature at the West Coast of Jutland. A race where the athlete compete against herself/himself and nature, along with other tough athletes. A race where only the toughest dare to compete. A race that will be a legendary and prestigious event. And you can brag to have raced in the first edition. A race you will remember and will be proud of having completed.   
In our terms many events are artificial backdrop - Thor Beach Triathlon is the real ting. Deal with the terms nature provides on raceday.    
Swim in the rough North Sea. Bike in the windy, beautiful and unique landscape around Nissum Fjord. Finish with a challenging beach marathon in the authentic environment along the West Coast. It will be tough, and you'll have to keep a cool mind. 
Naturparknissumfjord © 2023