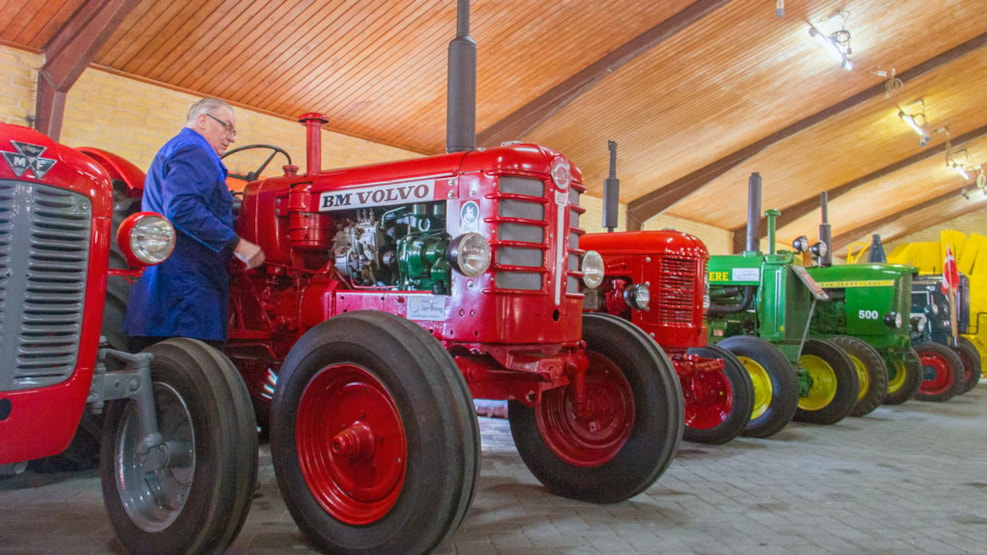 Traktormuseum Vestjylland
It is pure nostalgia for tractor nerds when Anders Poulsen in Nørre Nissum near Lemvig invites you inside his Tractor Museum.
Connoisseurs will swoon over the exhibited tractors and agricultural implements from, among others, Ford, Ferguson, Lanz Bulldog, Bukh, John Deere, Volvo and Massey Harris.
Welcome to a tractor museum with life and soul
 At Anders Poulsen's, in Nørre Nissum in Lemvig, there has been built a large collection of vintage tractors throughout the last 20 years. Tractors, which all have been through a thorough restauration process, are presented shiny and impressive – almost like new. Spare parts and colours are pretty much all originals and every tractor is recreated with great respect of the originality, which leads the thoughts back through time.
The large collection of tractors has, among others, well-known models from Ford, Ferguson, Lanz Bulldog, Bukh, John Deere, Volvo and Massey Harris. Even a David Brown tractor, which was built in England during World War II and originally designed to pull aircrafts of war, and Vestjyden, which is a Vety combine harvester and baling machine, which was designed and built in Lemvig in Denmark.
Anders and his wife, Erna, have lived on the farm since 1961, where they for many years ran a farm with pigs. Now however, the animals have been traded in for the vintage tractors.
Opening hours
Every Wednesday from 2.00-5.00 p.m.
In the summer period extra open from week 25: Monday 20 June up to and including week 34 Monday 22 August at 2-5 pm.
Naturparknissumfjord © 2023